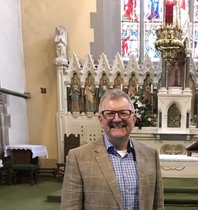 Welcome to the parish website of St Mary and St Michael's, Garstang.
Click Weekly Bulletin for up-to-date details.
Our parish is our parishioners - so this website will be about people.
The parish serves the market town of Garstang and its environs. Garstang is in Lancashire in the North West of England, approximately halfway between the cities of Preston and Lancaster. A weekly market has been held in the town since the year 1310!! It is mentioned in the Domesday Book where it is referred to as 'Cherestanc'. The church of St Mary and St Michael was built in 1858 and is situated just outside the town boundary, across the River Wyre in Barnacre-with-Bonds, in the shadow of the Bowland Fells.